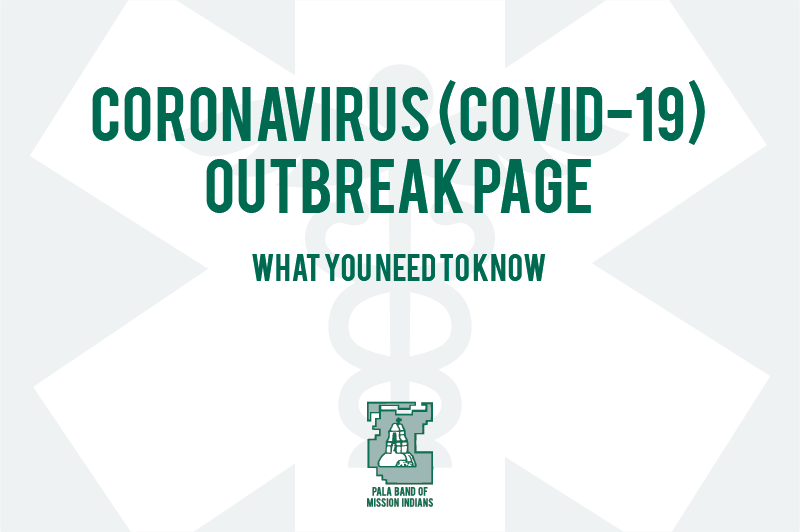 COVID-19 (Coronavirus) Outbreak
Updates
Updated Tuesday, March 31, at 9:16 a.m.
Confirmed Cases and Deaths
Number of confirmed cases in San Diego County:

519

603

(+84)

Number of confirmed deaths in San Diego County: 7 7

(+0)

Number of confirmed cases in Riverside County: 

233

 291

(+58)

Number of confirmed deaths in Riverside County: 8 9

(+1)
Be aware that the number of confirmed cases DOES NOT INCLUDE individuals who have the virus but are showing no symptoms or are experiencing mild or moderate symptoms but have not sought medical care or testing. Community spread is happening now in San Diego and Riverside counties.
Page Updates
Community Updates, 3/30
COVID-19 Text Message Alert System (Cancellations, Closures, and Alerts section), 3/20
Who Should Be Tested (What You Need to Know section), 3/18
CDC Youtube Channel, 3/20
Community Updates
SDG&E Service. SDG&E Services during COVID-19 Stay at Home Order.
Pala Band of Mission Indians. Public Notice: PBMI Declares a Public Health Emergency.
Fox Raceway, Pala Skatepark, and Pala Fitness Center. These facilities have temporarily suspended all operations. Announcement: Temporary Closure of Raceway, Skatepark, and Fitness Center
State of California. Governor Gavin Newsom Issues Stay at Home Order. The State of California has ordered all residents to stay at home until further notice. Everyone is required to stay home except to get food, care for a relative or friend, get necessary health care, or go to an essential job. If you go out, keep at least 6 feet of distance. [see COVID-19 (Coronavirus) Outbreak – Cancellations, Closures, and Alerts below]
Senior Meals. In-person daily meals for seniors at Pala Administration building will be discontinued as of Monday, March 23, until further notice. The kitchen will continue to operate to prepare and deliver daily meals. To sign up for delivery, Pala seniors can contact Shannon Cagey at 760-891-3505 or Samantha Scott at 760-891-3507.
Propane. Pala residents are advised to check their propane supplies and be sure to have 6 to 8 weeks' worth on hand.

Fallbrook Propane is accepting checks and credit cards only

.
Indian Health Council. Indian Health Council in Rincon has set up a COVID-19 Page and Triage  Nurse Line: 760-751-6019. Call before coming to the clinic if you have a non-urgent health problem.

All visitors will be screened for COVID-19 symptoms before entering the clinic

.
Pala Mini Mart. The Pala Mini Mart will temporarily be operating on a modified schedule: 7:00 a.m. to 8:00 p.m.